Why It's Important to Clean Gutters
If there's one part of the home you probably don't think about much, it'd have to be the gutters. You know they're there, and that they need to be cleaned sometimes, but what you may not realize is how important they are.
Gutters protect your home from runaway rainwater that can lead to leaks, ruined landscaping, or even cracks in your foundation. Here in Portland, where we call a week without rain "summer," this makes gutters doubly important!
Water isn't the only thing that gets into your gutters, though – leaves, branches, or even shingles slide in, causing blockages and leaving your gutters unable to do their job! Before you know it, you've got water creeping through your windows, mold thriving in your basement, or mosquitoes and bees swarming outside (clogged gutters make an excellent nesting ground for pests).
Fortunately, it's easy to avoid these kinds of issues – and save the money it'd cost to deal with them – by cleaning out your gutters regularly.
How Often Should I Clean My Gutters in Portland?
It depends, but twice per year is usually a safe bet with our unique pacific northwest weather.
Unclogging gutters in early spring will ensure they're ready for heavy rainfall, while doing so in late fall will rid them of leaves and prevent the formation of ice dams in the winter. If pine trees are close to your home, three or four times per year may be necessary.
Let's look at how to clean them.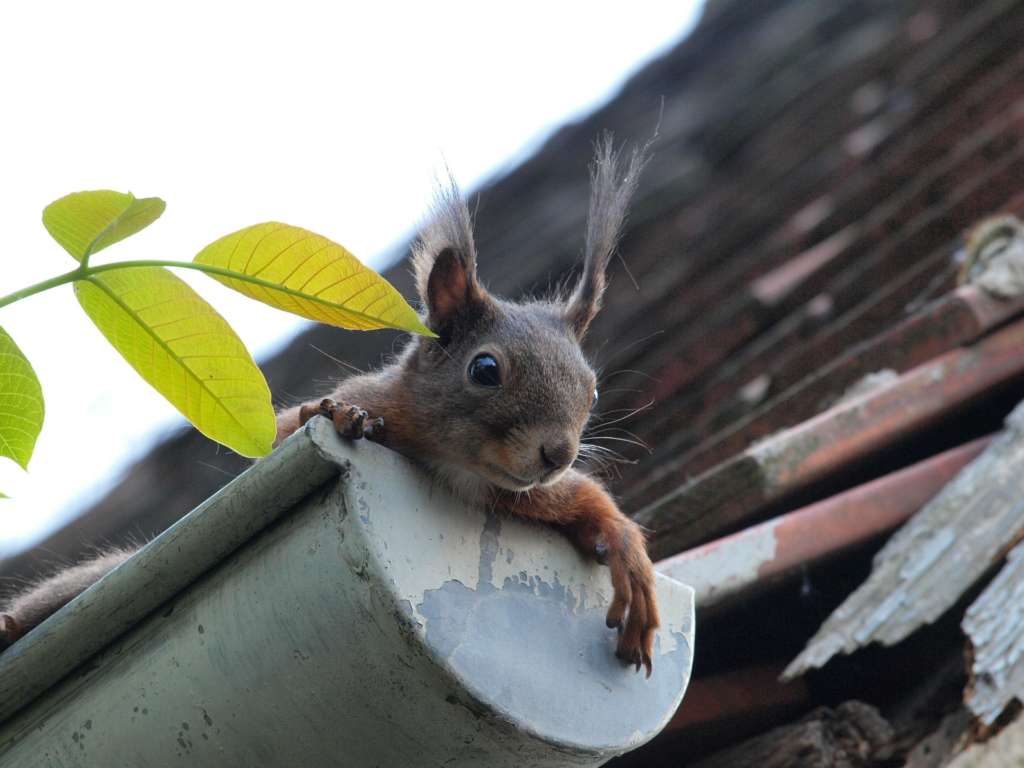 How to Clean Gutters 101
1. Gather Your Equipment
The first thing you'll need is a ladder. Unless your gutters are less than 8 feet from the ground, you should use an extension ladder.
Ensure the ladder is on solid ground, and never climb onto the top three rungs! It's always best to have someone else nearby when using a ladder.
Wear thick work gloves, a long-sleeved shirt, and some work pants.
To unclog gutters you can use a gutter scoop, or items such as garden trowel or old spatula.
As for disposing of that gunk, you have a few options: a tarp, a bucket, or a bag.
A tarp is the easiest option as you can just throw the debris straight down, while a bucket or bag can be connected to the ladder via hooks.
.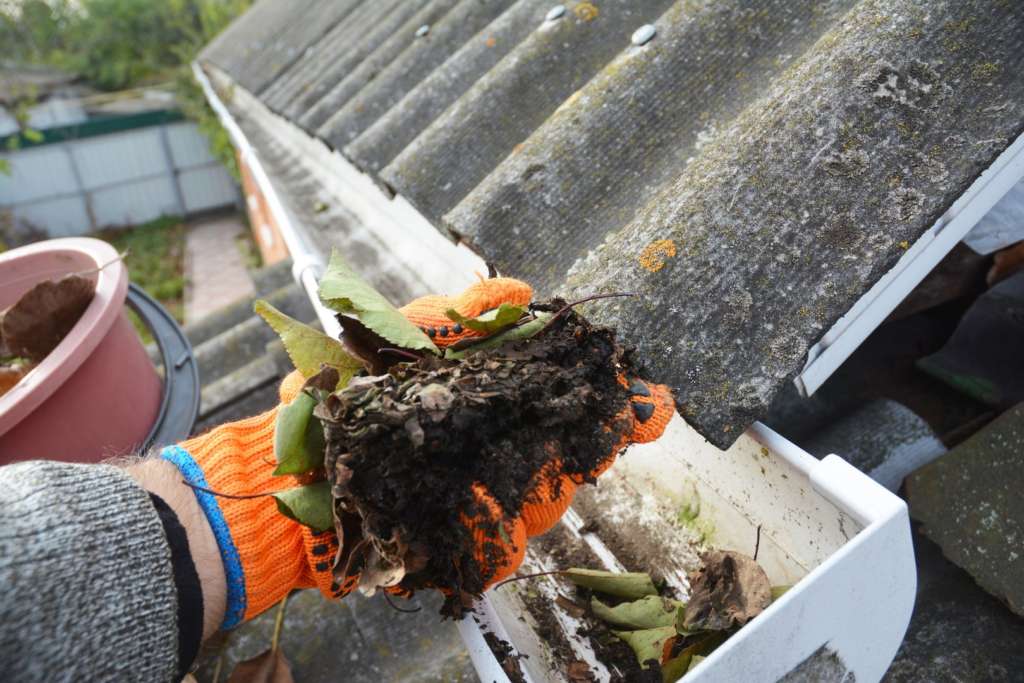 2. Clean Bit by Bit
Start cleaning by the downspout and gradually make your way across. Remove sticks or other large obstructions first, and then use your scooper of choice to get the bulk of the debris.
Throw it out onto your tarp, or into your bag or bucket.
While up on the ladder focus only on the section in front of you – don't reach, as this presents an unnecessary risk of falling.
Continue section by section, moving your ladder as needed until you've finished the entire gutter.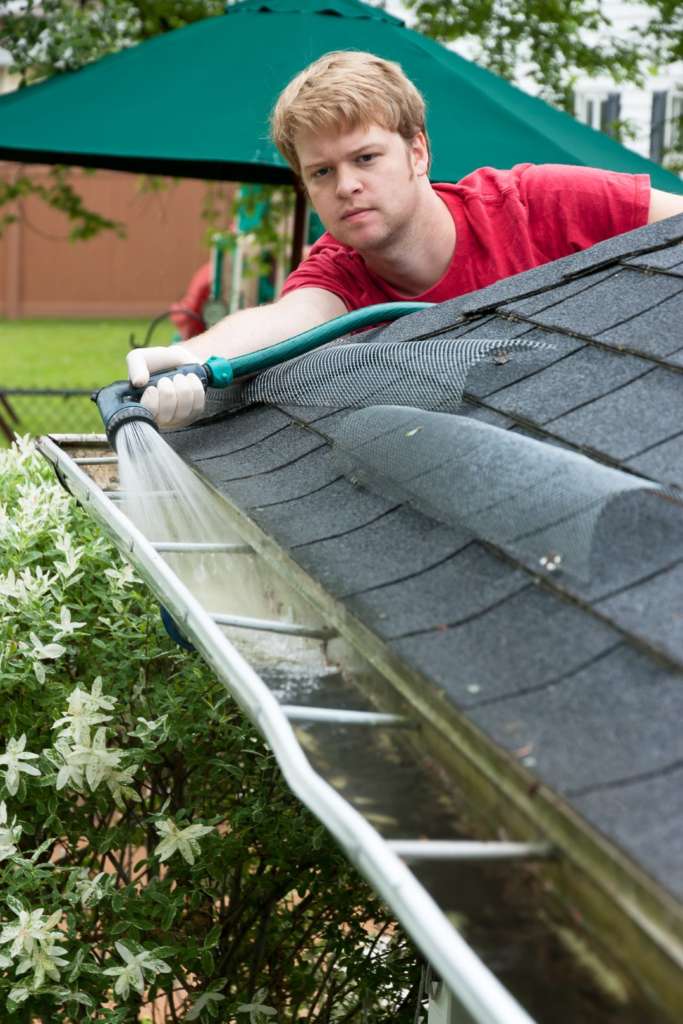 3. Finish Off With a Hose
Once you've cleaned as much as you can with your hands and shovel, use your garden hose to give your gutters a final rinse.
Do this at the end opposite the downspout, as you want everything to flow out cleanly. This is also a good time to check your gutters for leaks.
Who Cleans Gutters Near Me?
While DIY gutter cleaning is certainly an option, it's not really near the top of most people's "things I'd have a fun time doing" list! You may lack the equipment, or just feel uncomfortable using ladders.
In this case, it's best to hire gutter cleaning professionals. While we at Grumpy's Drains don't clean gutters ourselves, after 15 years in the business we're in contact with some of the best gutter cleaners in Portland to whom we'd be happy to refer you. They provide cheap gutter cleaning with high quality service.
That being said, it's important to remember that…
Gutters Aren't the Whole Picture!
Gutters are only one part of your complete rain drain system – in fact, they're really only the tip of the iceberg. When gutters are clean, rainwater runs through them and into the downspout, the long trunk that runs down the side of your home to the base.
From there, the downspout connects to the rain drain, which is the underground juncture that leads out away from your home and foundation. So what happens if all that extra debris – twigs, leaves, shingle pebbles and pieces etc. – finds its way into the downspout or even the rain drain?
You guessed it – these critical components of your rain drain system can become clogged and, from there, the whole system gets backed up, causing big problems!
Have you ever cleaned your gutters only to find that they're still overflowing? If so, you most likely have a serious clog further down the line.
If this clog isn't dealt with, you could be looking at even more massive amounts of water spilling out of your system. So,how can you clean an underground rain drain?
The answer is through hydrojetting, a technique that's just as cool as it sounds!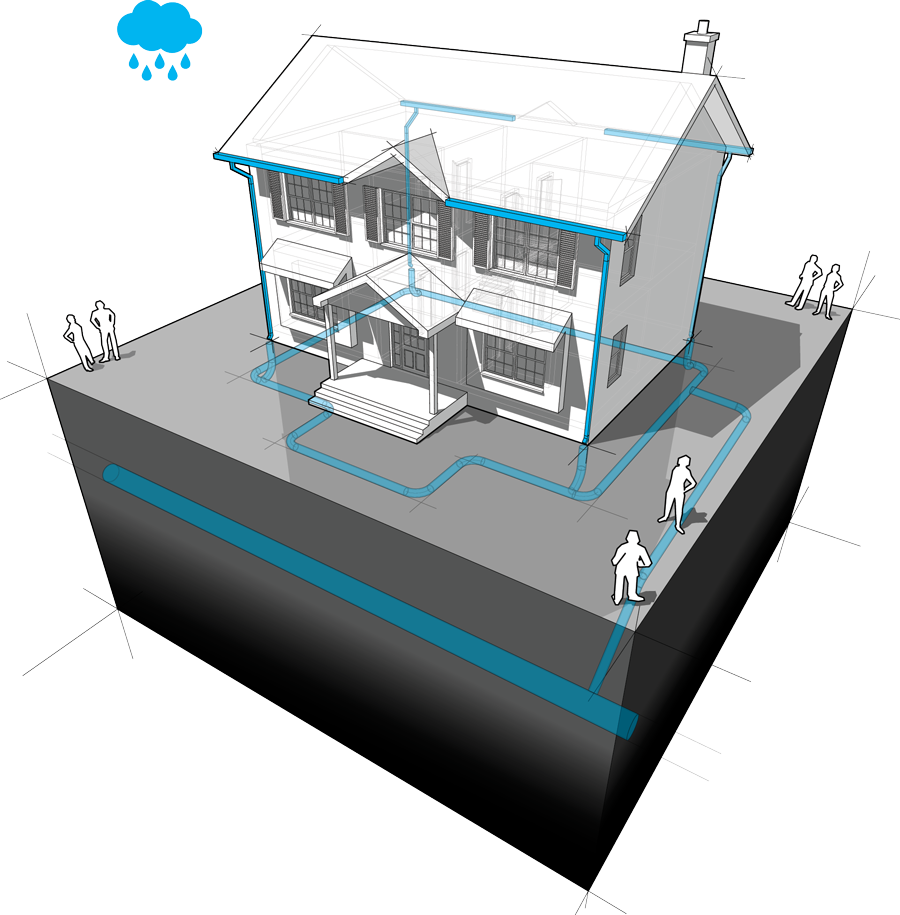 Clear Out Your gutter Drains With the Power of Hydrojetting
Hydrojetting utilizes a specialized hose that blasts out high-pressure water – with pressure levels between 2,500 and 4,500 PSI, it's strong enough to push through even the toughest obstructions without harming your pipes! A plumber's snake will open a line, but hydrojetting will remove the debris and restore full flow, so that it doesn't happen again.
Here at Grumpy's Drains hydrojetting is our specialty, and experience has shown it's the best method available for providing a thorough gutter drain cleaning.
Why Choose Grumpy's Drains for cleaning the gutter drain system?
Hydrojetting should only be done after your gutters have been cleaned – there's not much point clearing out the base of your system if there's a chance more gunk could just slide in!
That's why, with one of our Grumpy's Rain Drain cleaning coupons, you'll get a discount on hydrojetting once your gutters have been cleaned out by gutter cleaning Portland experts. This kind of holistic approach is the way to go if you really want to protect your home. If you're interested, feel free to give us a call at (503) 422-9476, or fill out our online form.
Let's get your rain drain flowing smoothly again!